Browsing Category: "Food and Soups"
.
I am very engrossed reading online last night when my husband asked me on how much likely I want to eat chicken and dumplings. I didn't bother to answer because my mind is focused on what I am reading plus I don't want to eat more food I am trying to lose weight. As he thought I don't like going out the chilly weather he started preparing his meal by getting them on the fridge and that's where I stopped reading and told him I thought he likes dumpling and chicken.
Well anyway on my husband last meal I have to cook white eggs with  cheese but it turns out only one cheese left so I have to go out and buy a package in the nearby GS25, aside from it my husband asked me to buy him dumplings and chicken if the brand he likes are available. While there, I bought noodles and sandwiches for me, the brand of chicken he likes was not available so I didn't buy any, same with dumplings which is also not around but I still buy different package.
I got lucky with the noodles because it is not spicy, it was not also a processed noodles it uses fresh white noodles though the seasonings are not.
I didn't buy a lot of food when we shopped for our weekly supplies because I am planning to cook  and eat the old stocked  before buying more. One of the old food I have is the fish cake or eomook in the freezer so I made a soup from it. For me it tasted good even though it doesn't taste like the fish cake soup they have in the street.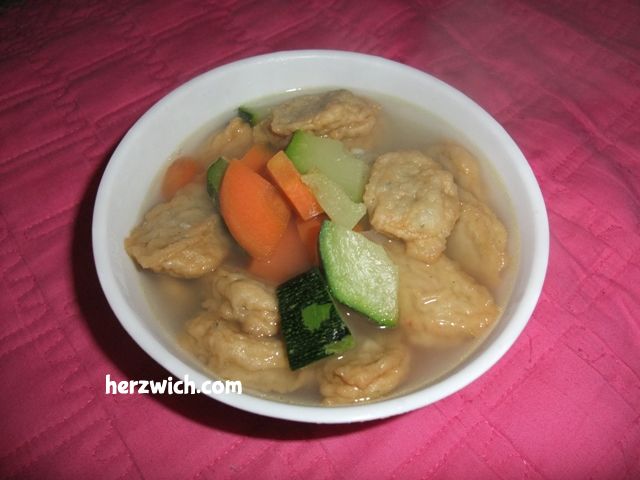 These past few weeks I have been eating chicken adobo and feeling tired from it I cooked soup last night using the remaining pieces of chicken and the remaining pack of misua noodles. I also drop few macaroni on my soup and use magic sarap to add more flavor on it.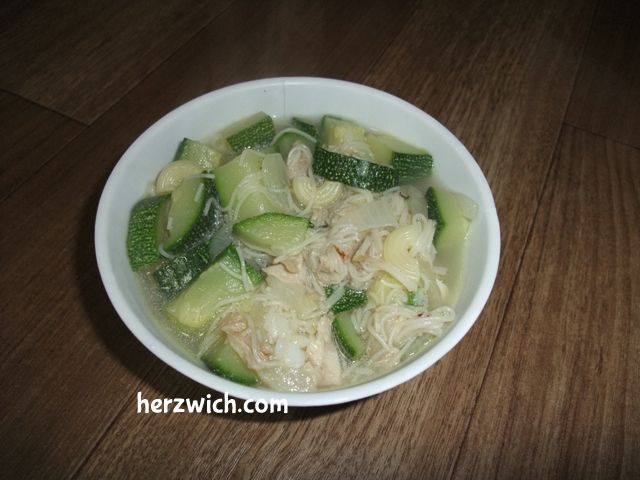 My ingredients:
chicken strips, misua, zucchini, garlic, onion, pepper, magic sarap, macaroni, water
The other day I felt hungry and I want to eat something nice and different from what I have eaten in past few days. I have been eating chicken eh, well so I have thought of cooking sapporo soup or sotanghon soup. This two packed is included from the package I received from Philippines.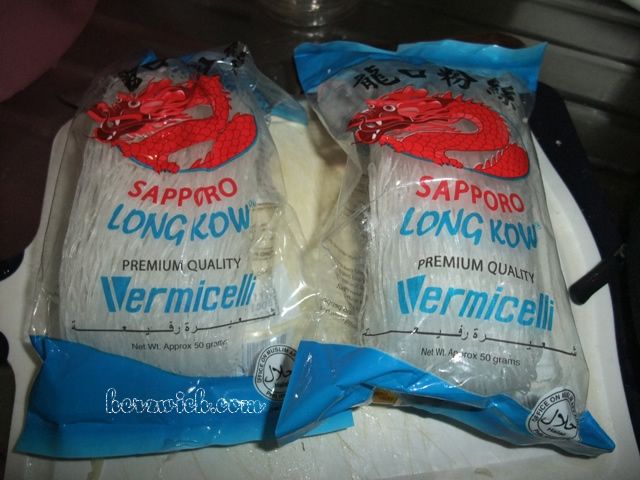 My Ingredients:
Sapporo, zucchini,  chicken strips, garlic, black pepper, onion, water and salt to taste
Procedure:
Saute the garlic and onion until brown
Add the chicken, then add the  zucchini, cook it for a little bit
Add water, drop the sapporo noodles
Add salt and pepper to taste
Let it cook and boil until the noodles is well cooked
Serves hot
I am quite busy last night because I decided to cook chicken macaroni soup with a thought that the boiled chicken will spoiled if I wait few more days before cooking a  soup. I boiled few pieces of chicken on water with garlic, onion and salt just too bad I don't have chicken cubes left.
My Ingredients:
Macaroni, carrots, zucchini, cabbage, chicken, salt, oil, ginisa mix, onion, garlic, pepper, cream powder and water
My Procedure:
I first boiled the chicken with onions and garlic, then strip the chicken into pieces. I keep the broth for later.
I sauteed garlic and onions and when it is little brown I add the cut carrots and zucchini I sauteed them for few minutes
When it is mildly cook I add the water, chicken broth, chicken strips and the cream powder (in exchange of  evaporated milk)
Then when it starting to boil I added the macaroni which I already boiled separately
I add salt, ginisa mix and pepper to taste
I let it boil and then add the cabbage and let if cook for few minutes