Browsing Category: "Kitchen and Appliances"
.
Gone are the days when all one could pick is the classic porcelain faucet or steel faucet/sink for one's kitchen. Today, one has the choice of choosing a non-conventional but high-on-style-factor copper apron sinks. Also known as farm sinks these have the potential to turn a boring kitchen into one with oomph and style. If you want to save money and have these in your kitchen then you might as well go the DIY way. One thing to keep in mind here is that apron sinks aren't like the standard under-mount or drop-in sink, therefore installing it would require you to take a different approach.
When it comes to copper apron sinks or any other apron sinks for that matter, there are three finishes to choose from: one where the sink is half an inch below the countertop, one where the sink is at the same level as the countertop and finally, one where the sink is higher than the countertop. Depending on your preferences and needs, you can choose any one of these finishes and proceed ahead with installing copper apron sinks in your kitchen. Now, the space available to you for the new sink would depend on the height available in the false drawer section of your cabinetry, either existing one or a new one that is soon to be constructed.
In case you are installing your apron sink on the existing cabinet and you have less than six inch space to work with for your sink then you should opt for the remodeling of the drawer or the cabinetry. The copper apron sink that you choose should be compatible with your counter top so as to make the installation process a snap. The next step that you need to take here would be to cut out a rectangular shape in the counter top. The best part about installing apron sinks is that they can be installed anywhere from flush.
After making the cut, it would be time to place the sink in. While copper apron sinks are generally very strong, if you wish to provide additional support and make it even more sturdy then you can have supports built around the sink on the inside of the cabinet so that the front portion will remain aesthetic. Silicone sealant is your best friend when it comes to sealing overlaps and gaps formed in the installation process. Another advantage of sealing is that it would prevent the formation of mildew or mold inside your cabinetry.
The installation of a copper apron sink is never complete without the installation of drain flanges. Additionally, you might also need to have your pipes modified in order to make the sink more functional. Once everything is done the faucet can be places inside the hole, cut out by lining it with the pre-drilled holes located at the rear portion of the sink.
Dustin Johnson, an expert in DIY believes in not paying through the nose for things that can be easily done by oneself. He is also a go-to expert when it comes to installing copper apron sinks in your kitchen.
Moving into a home or apartment does not require an extensive kitchen. In fact, even if you are redoing your kitchen, you can cut down on the expense by opting for a minimalist style. No matter what style you choose though, these following tools are really necessary.
The Refrigerator and Freezer
Of course, you need a cold place to store your fruits, vegetables, dairy products and more. A fridge protects your meats from spoiling. Without a refrigerator, there is almost no point in having a kitchen, unless you eat only canned items, which is not the healthiest option. If you're living in a tiny apartment or tertiary school housing unit, select a mini-fridge to hold only the essentials.
[Image not Mine]
A Sink
Some people will say that you absolutely must have a dish washer, but this simply isn't true. People survived for centuries upon centuries washing their dishes by hand, and you can do it too. Therefore, in order to keep everything clean, a sink is a necessity. Even if you are using all disposable plates, cups, napkins and so forth, you still need a sink in the kitchen. Many of the foods you touch, raw meat and raw eggs for example, contain dangerous bacteria. Immediately after touching them, you need to thoroughly wash your hands with soap and water to prevent the spread of bacteria.
Oven and Stove
Much like the fridge and freezer, the oven and stove are really two necessities for the kitchen. Without them, you will not be able to cook any of your foods! If you are really on a tight budget, you could look for a very small unit. Preparing a meal for 30 people will likely be impossible, but you'll be able to make yourself some healthy breakfasts, lunches and dinners. Of course, when money is really tight, you could use the barbecue or portable grill until you save up enough for some new appliances.
Silverware
All of those fancy tools that people have in their kitchens are really not necessary. When you break cooking down to the core, so many methods exist that allow you to make foods without an expensive contraption. Once all of that yummy food is prepared, no matter what method you employed, you need some plates to put it on. Knives, forks and spoons are all necessities in the kitchen. It's a good idea to have a number of sets of these, so you don't have to constantly wash them. When you host a lot of parties, you could opt to have a more formal set in addition to your every day set.
It's not necessary to spend thousands to have that a functional kitchen. Sure, your kitchen might not be the fanciest on the street, but at least you have the necessary tools and accessories, plus you have extra money in your pocket. You can always upgrade or add new appliances down the road.
Author Bio: Tyson is a chef at Deckhouse Woolwich Restaurant in Sydney, Australia. Tyson believes that you don't need a lot of fancy equipment to be a top chef, and that a few quality tools will do just fine.
It's often said that a sharp knife is a safe knife but knives don't sharpen themselves. As a cook you need to see to it that all of your kitchen equipment is in working order so that generally means investing in a knife sharpener. It's a good idea to read knife sharpener reviews before investing in something you won't use or won't know how to use, plus there will always be selected tools which with can't be sharpened such as serrated edge knives or need to be professionally sharpened such as specialty kitchen tools and shears.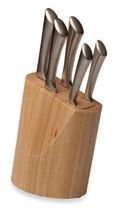 Many knife sets come with a knife sharpener – often sets which arrive in a knife block include a sharpening steel while knives sold in trays sometimes include a built-in sharpener. There is no right tool for sharpening knives – much depends on personal preference and skill level.
Many cooks prefer a steel – this is a generic term for a rod-like sharpening device with a handle. The material may be steel or some other type of metal coated with a diamond dust or it may be a ceramic rod; regardless of material this particular style of sharpener is called a sharpening steel.
A sharpening stone may be the first device which comes to mind for sharpening knives and kitchen tools and these are quite common but require some skill and practice to use correctly because it is up to you to consistently maintain the knife edge. Most other pull through sharpening devices are designed to keep the blade in a fixed position to ensure the edge is properly maintained. A sharpening stone may require the use of honing oil for best results.
The other day while we are shopping at Lotte Super I wandered around the house and home aisle and I found this plate cute. It only cost ₩1,000 ($0.87) so I bought it thinking I am going to eat small amount of rice if I am going to use it.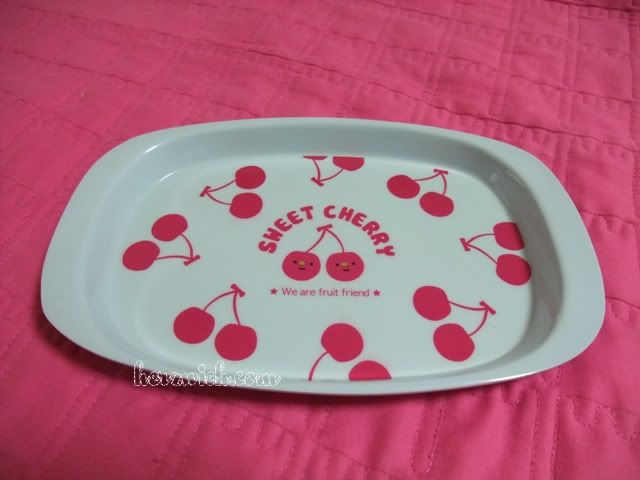 I think it is more as a kid's tray rather than  a plate because it it is in the same shelves of the large trays. My husband just nod his head when he saw what I am holding.
The other day my mother told me again about her business plans which she told me a year ago. She want to buy a fridge so she can sell food like tocino, longganisa and hot dogs around the neighborhood.  I just wish I had money instantly so I can send them the amount they need but the money I just send yesterday is just enough for their daily  consumption.  She's in a hurry to buy a fridge because they heard our neighbor  is also planning to buy a fridge and sell what she is planning to sell.
I think a huge side by side fridge freezer will be good choice for business because  it can  store more food that can be  at a later date, I should check the Samsung warehouse nearby to see what is the latest  trends.