My husband was craving for hotteok a while ago so I went  out to buy some, but the restaurant that also sell street food has no more hotteok left so I went to public market.  Just so lucky that the old woman where we first bought our first taste of hotteok was there so I ordered eight pieces, it turns out that the old mixture is only good for five pieces and I thought nothing has left but my guess was wrong she opened an ice box and get a big bag of   hotteok mix so I added more two on my order that makes it ten pieces.
Hotteok is a variety of filled Korean pancake, and is a popular street food in South Korea. It is usually eaten during the winter season.  According to what I read the dough for hotteok is made from wheat flour, water, milk, sugar, and yeast. The dough is allowed to rise for several hours. Handful-sized balls of this stiff dough are filled with a sweet mixture, which may contain brown sugar, honey, chopped peanuts, and cinnamon. The filled dough is then placed on a greased griddle, and pressed flat into a large circle with a special tool with a stainless steel circle and wooden handle as it cooks.
The first set of hotteok has a yellow though and the second set is green. While she is cooking the hotteok, one local man came and says something while pointing to one stove, then the old woman started to pack the flower-shaped bread and set it aside in the table on her back and then she also packed the first set of hotteok.
Another customer came and order two hotteok, and after few minutes the man came back  to claim his order it turns out he shopped for a while, so the old woman gave his order to him. When the last set of my order was cooked she packed them in a separate plastic bag,  I pay and she handed them to me.
I immediately put the plastic bag on my shoulder bag, says thank you and bid goodbye. Then I went to Daiso, buy something and went home.
When I reached home my husband excitedly open the plastic bag and he was surprised to see something not just hotteok, I was surprised too. A realization came that the other set of hotteok was switched to the not so old man's order. Oh, well instead of returning the flower-shaped bread we decided to try it. Dunno if the man return to the woman when he found out that his order was switched.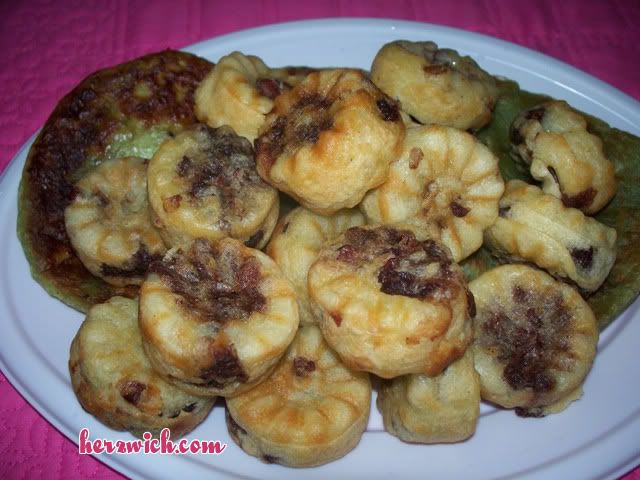 According to what I read this flower-shaped bread is called Gukwha-ppang and  very similar to Bungeo-ppang it is made of sweet bean inside a light, pancake like batter. Like Bungeo-ppang, it requires a heavy, dimpled pan to cook, and you can often see Gukwha-ppang cooked in the street.,