One of the things I brought home the other night when I bought hotteok, I am on my way home when I saw the familair cart selling chestnuts and rice crackers, I already passed by him but I return thinking it is the old man's cart. Anyway it is not dunno if they are related or the younger man has a different cart to the old man.
Oh well all I want is to try one box, I just pointed it to him and he gave me a piece to try, then the guys says two in Korean so I just let him put two box in a plastic bag because I don't know how to say one. Haha, while he is busy I am thinking if I have change left, so my eyes is focused to the money I have pay him., he asked me if I am from Philippines and I said yes,  then suddenly he took another plastic bag bigger than the first one and put rice cracker in it. I told him no, I am not going to buy rice cracker eh.,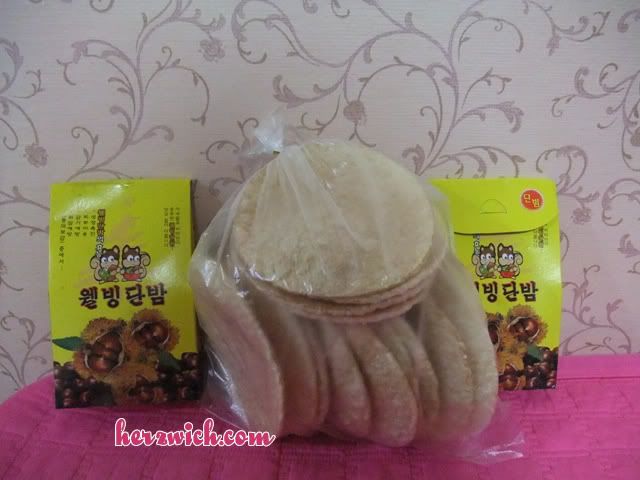 Oh well dunno if we understand each other, he said thank you, thank you..(like saying this is thank you) so I am thinking he is saying it's a free or service as what they called it.   Oh well I just took the bag, say may thank you and goodbye because I supposed he is not going to give me any change anymore.
Anyway just lucky that he gave me two box of chestnuts because my husband likes it, he enjoy eating the  roasted chestnuts as well am I. I am going to buy more next time, that's for sure.