Yesterday before shopping our daily supplies we first shop for my husband pants that he is going to wear in school. The principal want him to wear nice formal pants instead of wearing his black cotton pants. After buying the pants we happened to pass by in a fruit store and the old man called our attention to buy his strawberries  I tried to count my money in my pocket as I want to buy but  my husband told me to buy it later after I picked up the pants which we left  in a tailor shop for reduction, it is too long. We are also going to shop in a supermarket they might thought I stole it from there if I bought one already.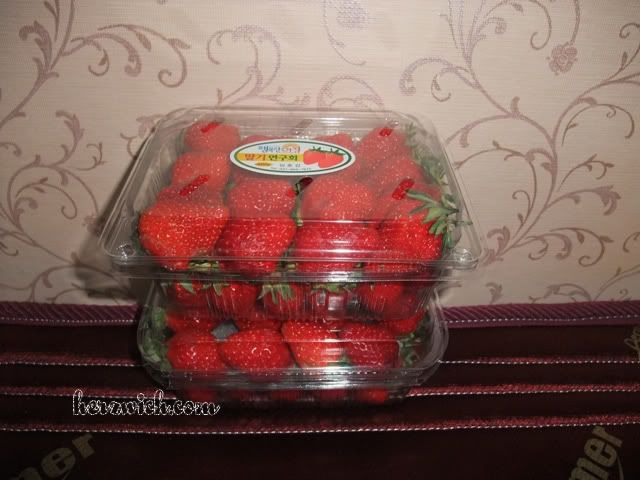 So when I returned after one hour I went to the fruit store I don't know if the old man remember me, the old woman was the one who accommodate me because there's also other buyer, I just point the sign written in a small piece of carton, little did I know that ₩5,000  ($5.47) is for two box of strawberries I thought it is for one box only. So when I went home I have a lot of strawberries to eat, some Koreans called strawberry as spring fruit I mean fruit that grow on spring season.
Anyway as what I have read online the strawberries produced in Korea are separated into summer and winter varieties.  The Winter strawberry is not only a domestic consumption but it is also for export to countries like Hong Kong, Malaysia, Singapore and other South East countries.