It's often said that a sharp knife is a safe knife but knives don't sharpen themselves. As a cook you need to see to it that all of your kitchen equipment is in working order so that generally means investing in a knife sharpener. It's a good idea to read knife sharpener reviews before investing in something you won't use or won't know how to use, plus there will always be selected tools which with can't be sharpened such as serrated edge knives or need to be professionally sharpened such as specialty kitchen tools and shears.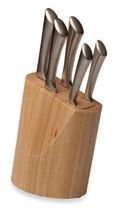 Many knife sets come with a knife sharpener – often sets which arrive in a knife block include a sharpening steel while knives sold in trays sometimes include a built-in sharpener. There is no right tool for sharpening knives – much depends on personal preference and skill level.
Many cooks prefer a steel – this is a generic term for a rod-like sharpening device with a handle. The material may be steel or some other type of metal coated with a diamond dust or it may be a ceramic rod; regardless of material this particular style of sharpener is called a sharpening steel.
A sharpening stone may be the first device which comes to mind for sharpening knives and kitchen tools and these are quite common but require some skill and practice to use correctly because it is up to you to consistently maintain the knife edge. Most other pull through sharpening devices are designed to keep the blade in a fixed position to ensure the edge is properly maintained. A sharpening stone may require the use of honing oil for best results.